The housing market is hot,
but will you still get the
highest return?
By choosing Realty Texas
you will!
TO PROTECT YOUR
INVESTMENT
Realty Texas is changing the way you sell your home. We have devised a system that enables sellers to sell their home quickly, obtain the highest price, and reduce the hassle of costly repairs. Realty Texas has over a billion in sales and a proven track record in expert marketing, negotiation, and 5/5-star customer reviews. Simply put, we are experts in the field of Real Estate in Texas.
Buying a home is at the heart
of the American dream!
To understand what we do differently to sell your home, you must first understand how buyers, buy. People spend an average of eight weeks searching for a home, attending six open house events, and previewing eight homes before they make their choice. They want to enter the home buying market, but they are not ready to reach out to a real estate salesperson because they want the joy of buying, without the pressure. Buyers generally find an agent through the homebuying process, often at an open house, or through conversations with family, friends, or established relationships. The truth in what we do differently is compelling. Most of the back-end marketing is not exposed to the home seller. So, we are going to lift the hood so you can see inside what makes our marketing engine unique.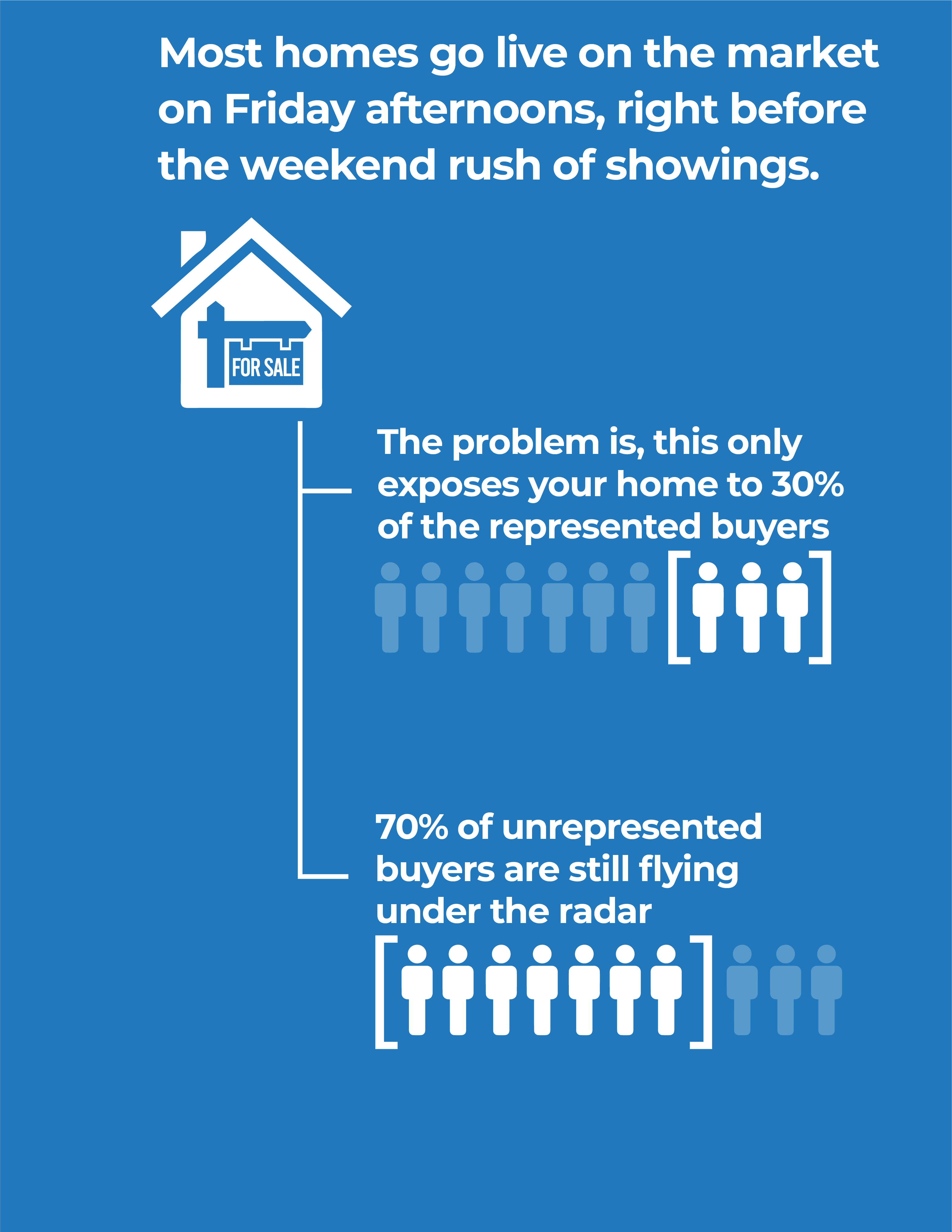 The question every home seller should be asking themselves is, how can an agent expose their property to the entire pool of buyers that are looking at any given moment? The more buyers with eyes on your listing reduces the time to sell, raises the number of offers, and increases what the home will ultimately sell for. Most homes go live on the market on Friday afternoons, right before the weekend rush of showings. This practice has gone unchanged for generations, and, for the most part, it works well. The problem is, it only exposes your home to 30% of the buyers who have hired a real estate salesperson and have access to the MLS. The other 70% are still flying under the radar and are highly leveraging the third-party sites like Realtor.com and Zillow.
A new Real Estate guideline called "Clear Cooperation Policy Statement 8.0," came into effect in 2021 for all agents who list in the MLS. The rule states that a home may not be advertised for sale more than 24 hours prior to being listed in the MLS for public view. Because of this rule, if the home goes live on Friday, agents can list it in the MLS and schedule their Grand Open House for the weekend no earlier than Thursday. Most agents believe the system works because the home sells quickly at or near what the comps reflect.
Statistically, the majority of homebuyers in this market have children. This includes what can only be described for most families as pandemonium over the weekend, recovery on Monday, and by that evening when the kids are asleep, the parents find themselves at peace and grab the iPad to start searching for homes. This means the number of page views for listings on Monday, Tuesday, and Wednesday skyrocket between 11pm and 4am. If they are looking Monday night, often they are looking at listings that are still active because the seller is finalizing their multiple offer bid unknown to the buyer, who at the same time is scheduling to see it this coming weekend. Now the 30% is seeing the live listings with their real estate salesperson on Friday, making their open house decisions, and the 70% is looking on Monday night at stale listings from the weekend, losing their opportunity to participate in the sale process because it keeps going under contract before they have a chance to view it.
REALTY TEXAS
UNDERSTANDS THE BUYERS
As you can see, Realty Texas has gone to extreme lengths to understand how buyers buy. This enables us to tweak our marketing campaigns to comply with the new rules and allows us to cast a wide net to expose the property to the largest buyer pool possible, both the 30% and the 70%! Make sense? Our past clients sure think so. We have been hitting home runs for our clients with astounding success. For example, we sold a home in Georgetown, Texas that was listed for $525k and sold for $650k. Yes, $125k over asking price!
MLS+ has EVERY listing,
not just the ones uploaded directly to it.
Realty Texas has designed our own proprietary MLS platform, MLS+, from the ground up, with you, the seller, at top of mind. We pull data from 19 other MLS platforms throughout Texas to create an all-in-one place for our agents and their clients to search for homes. When you sell with Realty Texas, your home will have exclusive online "real estate" if you will, allowing more buyers to land on your listing when it's fresh, resulting in more and higher offers. MLS+ and our excellent marketing approach ensures that your listing gets in front of more potential buyers before other listings are even entered into their systems.
Our award-winning brokerage belongs to 19 MLS platforms, whereas most agents and brokers only belong to one. This allows our company to stand out from other real estate firms by saturating the market with advertising, maximizing the audience, and allowing every potential buyer to see new listings. We first list our properties in an out-of-area MLS every Monday and that MLS specializes in data syndication which lists the home on over 400 websites. We block out showings in that MLS and leave it on hold until Friday at 2pm when we go live in our local MLS. During our "coming soon" phase there are no showings, and zero negotiation takes place. This is designed to get the listing on websites such as homes.com, Realtor.com, Zillow, and redfin.com by noon on Mondays, allowing plenty of time to catch the Monday 11pm to 4am high traffic volume. We make sure to note the dates of the open houses so the buyers can clearly see the Open House is for the coming week, not the weekend past.
This is of course not
where our story ends.
We engage professionals every step of the way, home stagers, high-end professional photos, videos, even Matterport 3D tours. Realty Texas is not just a real estate sales firm, we are a technology firm, a high-end marketing firm, and a full-service operation that ensures each of our sellers are wholly represented, the home properly prepared and exposed for market, and expertly negotiated to get the most equity possible for your home.